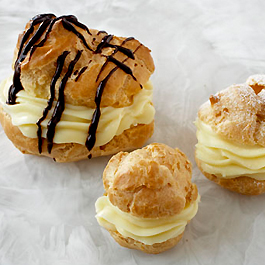 Courtesy of The incredible edible egg™
Servings: 12
Prep Time: 30 Min.
Cook Time: 50 Min.
* 1 c. water
* 1/2 c. (1 stick) butter, cut into pieces
* 1 c. bread flour or all-purpose flour
* 1/8 tsp. salt
* 4 eggs
* Pastry Cream (Vanilla Custard Filling)
* Powdered sugar or Chocolate Glaze

Pastry Cream (Vanilla Custard Filling)
* 3 egg yolks
* 3 c. milk
* 1/2 c. sugar
* 1/3 c. cornstarch
* 1/4 tsp. salt
* 3/4 tsp. vanilla

Chocolate Glaze:
* 1/2 c. semisweet chocolate chips
* 2 Tbsp. water
* 1 Tbsp. butter
* 1/2 c. powdered sugar, sifted
1. Position rack in lower third of oven; heat oven to 425°F. Heat water and butter in heavy medium saucepan over medium heat to a rolling boil. Remove from heat and immediately add flour and salt all at once; beat vigorously until thoroughly blended. Return to medium heat. Cook, stirring vigorously, until mixture pulls away from sides of pan and forms a ball, 1 to 2 min.
2. Remove from heat. Let stand to cool slightly, stirring occasionally, 5 min.
3. Add eggs, 1 at a time, beating after each addition, by hand or with mixer on medium speed, until smooth. Continue beating if necessary, until glossy and a small quantity of dough scooped on the end of a spoon stands erect.
4. For cream puffs: Drop dough by scant 1/4 cupfuls, about 2 in. apart onto ungreased baking sheet. For eclairs: Shape scant 1/4 cupfuls into 4 x 1-in. fingers on ungreased baking sheet.
5. Bake in lower third of 425°F oven until lightly browned, about 20 min. Reduce oven setting to 375°F. Continue baking until firm and golden brown, about 20 min. longer. Immediately after baking, pierce side of each puff with tip of sharp knife. Cool on wire rack.
6. Just before serving, cut off 1/2 in. from top of each puff; pull out any filaments of soft dough from inside. Spoon scant 1/3 c. pastry cream into each puff; replace tops. Sprinkle cream puffs with powdered sugar; spread eclairs with 2 tsp. chocolate glaze each. Refrigerate leftovers promptly.

Pastry Cream (Vanilla Custard Filling)
1. Beat egg yolks well in medium bowl or glass measure; gradually stir in milk until blended.
2. Mix sugar, cornstarch and salt in large heavy saucepan. Gradually stir in a small amount of milk mixture, making a smooth paste. Gradually stir in remaining milk mixture until blended.
3. Cook over medium-low heat, stirring constantly, until mixture thickens and comes to a boil, 20 to 25 min. Boil and stir 1 min. Remove from heat immediately.
4. Cool quickly: Set pan in larger pan of ice water. Stir occasionally and gently for a few minutes to hasten cooling. Stir in vanilla. Press piece of plastic wrap onto surface of pastry cream to prevent "skin" from forming. Refrigerate until thoroughly chilled, at least 1 hr.

Chocolate Glaze:
1. Combine chocolate chips, water and butter in small saucepan. Cook over low heat, stirring constantly, until chocolate is melted smooth. Remove from heat.
2. Beat in sugar as needed until glaze is smooth and of spreading consistency. Use immediately.

*Nutrition information is per cream puff (does not include filling or glaze)

"For more ways to enjoy The incredible edible egg™, visit incredibleegg.org"
Calories: 230;
Total Fat: 12g;
Saturated Fat: 7g;
Cholesterol: 148mg;
Total Carbs: 24g;
Fiber: 0g;
Protein: 6g;
Sodium: 126mg;